The Office

The Office is an American TV show that played on NBC from March 24, 2005 to May 16, 2013. The Office was adapted from a British show for American audiences by Greg Daniels,a writer for SNL,The Simpsons, and other comedy series. This television series portrays the everyday, ordinaary lives of office employees from Scranton, Pennsylvania, who work in a branch of the fictional Dunder Mifflin Paper Company. It is made to look like an actual documentary, so it is filmed in a single-camera setup, without a laugh track or studio audience.
This is my favorite TV show of all time! I've never had so many laughs in my life. At first I just though that this one just another comedy series, but it ended up having amazing plot. The end is one that is indescribable. This show is definitely a must-see! 5/5 STARS!!!
---
Parks and Recreation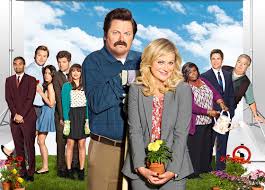 Parks and Recreation, is also another comedy television series developed by Greg Daniels,but also Michael Schur. It aired for 125 episodes over seasons on NBC from April 9, 2009 to February 24, 2015. It characterizes the employees of the government department of "Parks and Recreation" from the town of Pawnee,Indiana, a fictional town. The main character, Leslie Knope, works as the head of the department and her friends and co-workers make up the rest of the cast. Also similar to The Office, this show is filmed in a documaentary-type setup with a single-camera setup and without a laugh track or studio audience.
Parks and Recreation is my 2nd favorite TV show of all time! It holds a special place in my heart because of its hysterical comedy. The actors and actresses do so well in character and show how why the show has been so successful. I still have not seen the seventh season, but the previous seasons before were absolutely amazing! Can't wait to finish the series so I can truly give it a 5/5 STARS!!!